Bicycle Rental Service
Bicycle rental service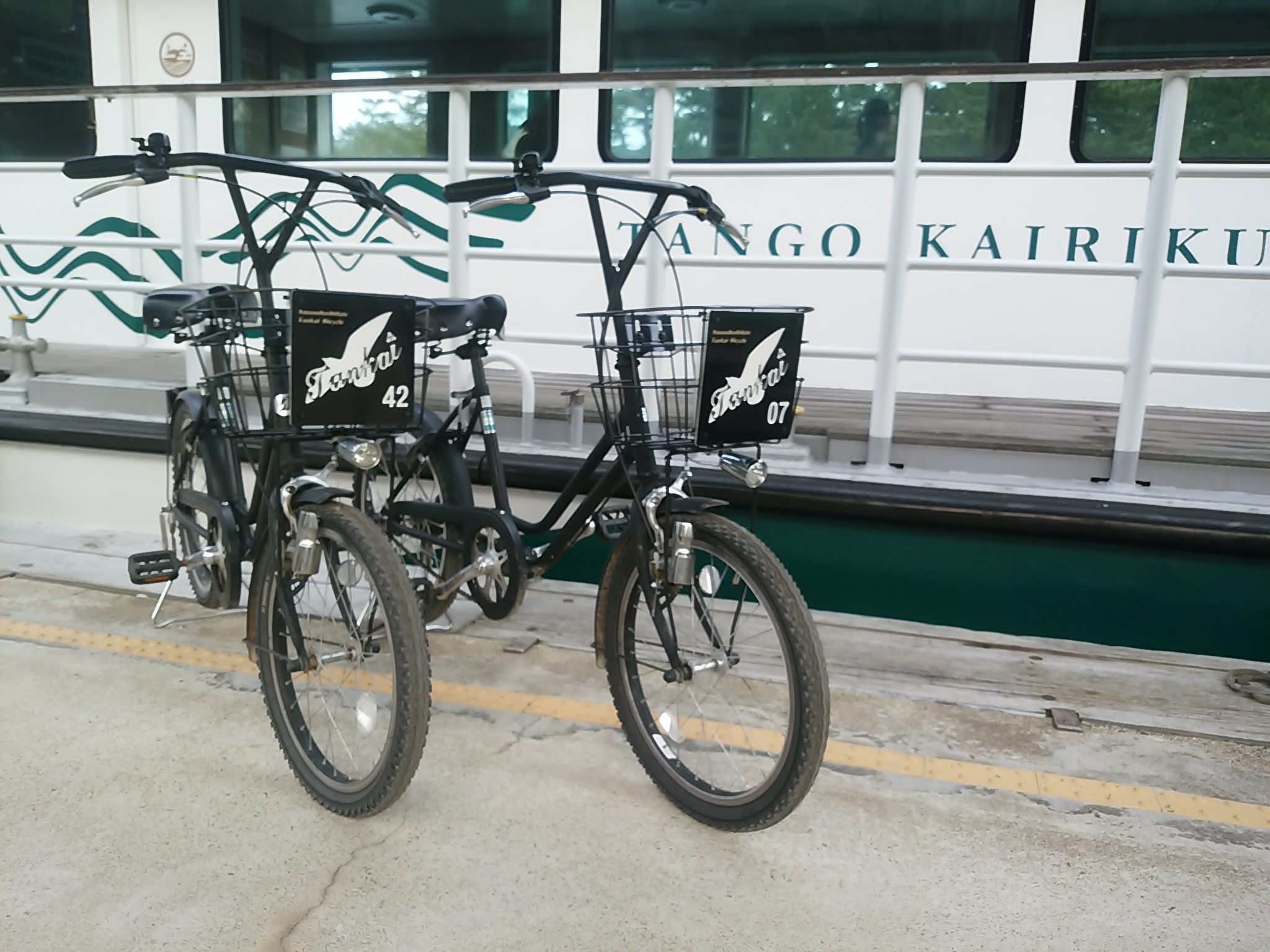 Bicycle rental service
Renting a bicycle is a fun and interesting way to explore the town. You can rent a bicycle at
Amanohashidate Boat Dock and Ichinomiya Boat Dock.
You can also enjoy cycling crossing the sand spit of Amanohashidate adorned by pine trees. It is acceptable both round trip or one-way use. When you use it one-way trip, return it at the boat dock on the opposite bank.
Notes:
The tire size of the bicycle is 20 inches only.
We have adult-oriented bicycles only.
To ensure your safety, you can't borrow it if your both feet can't touch the ground at the same time when you sit astride the saddle. The amendment of the Road Traffic Act on Apr. 1st, 2023 made it obligatory to make the effort of wearing a helmet when riding a bicycle. The helmets for the bicycles are available for free use. Please ask the staff if you'd like to.
The reception of bicycle rental
The reception & Return location
Amanohashidate boat dock
or
Ichinomiya boat dock
*Please ask the staff for use of bicycle rental.
Rental Fee
400JPY for 2 hours.
Note: If you exceed two hours, you'll have to pay an extension fee of 200 JPY per an hour.
Set Plans
It's a better deal if you use as a set.
Please see the table below.
Recommended plans
Content
Fee
A rental bicycle and
Amanohashidate sightseeing boat
You can use a bicycle on the outbound trip and use a sightseeing boat on the return trip.
1,000
A rental bicycle and a speedboat
You can use a bicycle on the outbound trip and use a speedboat on the return trip.
*It is for groups of four or more.
1,000
(JPY)
Please note that Set plans may not be available during Golden Week and Obon holidays.
Golden week is a special holiday in Japan that is from the end of April to early May. However the dates and days change, it depends on the year. Obon is one of the buddhist events. In Buddhism, it is believed that the spirits of family ancestors come back to this world during the obon period between July and August, and a series of events take place to welcome them. In Japan, everywhere is crowded during the Golden week or Obon period.